FAQ: Is Provitalize Right For You? 5 Key Questions To Ask Before Trying Provitalize
You've probably seen the remarkable reviews on Provitalize, like these:
Joyce B's looking good at 66! See how much weight she's lost...
Vicki's has more energy and is sleeping much better. Plus...
Betsy has seen diminished belly fat, increased energy levels and even more...
But you may be wondering if Provitalize is right for you... and that's a great question to consider.
Here are 5 key questions we ask all our customers before we encourage them to take Provitalize.
1. Are You Having Gut Problems?
Irritable Bowel Syndrome (IBS), constipation, indigestion and bloatedness are clear signs that your body needs help. Besides eating more fruits, vegetables and fiber as a solution, a healthy dose of beneficial bacteria is also needed to get you back into shape.
The 3 probiotic strains in Provitalize (B. Lactis, B. Breve, L. Gasseri), along with its natural ingredients, are a provenly effective choice to provide your body with this beneficial bacteria.
A study was done by Department of Internal Medicine and Gastroenterology, University of Bologna using a probiotic like B. breve on patients with IBS.
The result?
Over 75% of the patients had their IBS symptoms eliminated! On top of that, they had a higher healthy bacterial composition, which benefited them for the longer term.
This is why customers have been saying they feel less bloated and feel their digestion has improved after taking Provitalize.
Check them out below!
Aimee's IBS has improved dramatically after 3 weeks! She now takes takes Provitalize as her only dietary supplement instead of mixing and matching 3 different supplements.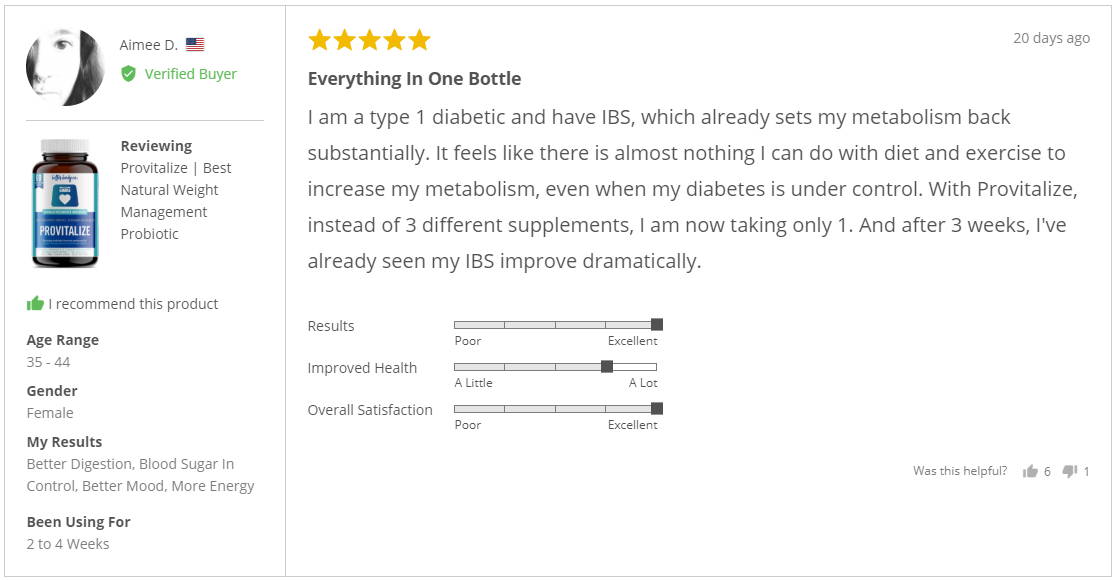 Pam has less bloating after taking Provitalize for a month. Even her sleep is much better now!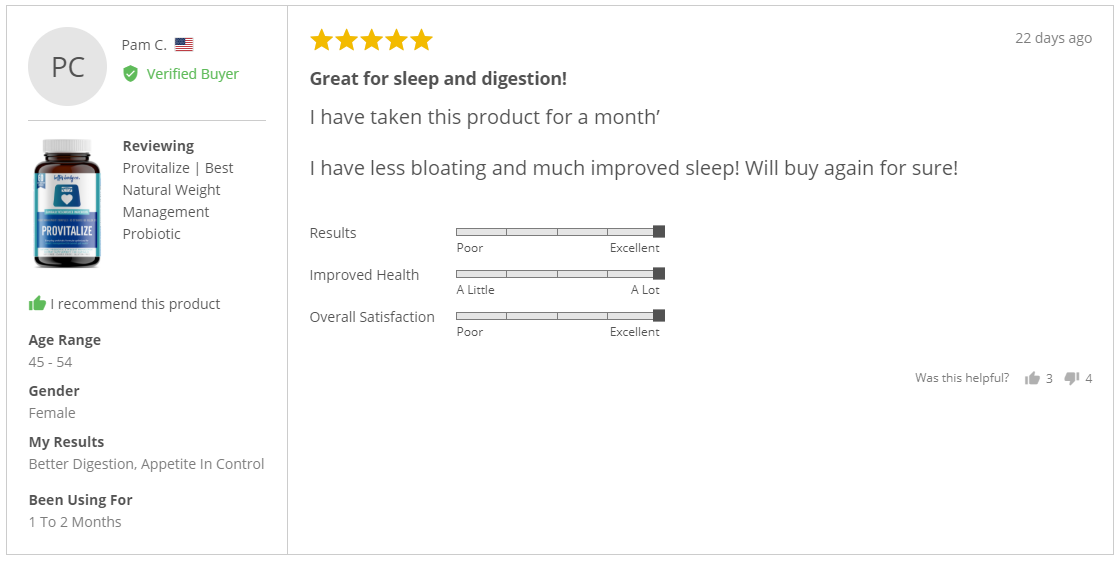 Sue has been taking Provitalize with her daughter. Their gastrointestinal issues have improved and they definitely feel better.

 

2. Are You Overweight?
If you have constant cravings, seem to keep eating but never getting full, have problems losing weight or can't exercise due to physical injuries, this could change your life.
A clinical study of the active ingredient B. Lactis found in Provitalize was consumed by a group of patients with metabolic weight issues for a period of 45 days. It showed a significant decrease in their BMI, cholesterol levels and several other fat indicator levels. [2]
When L. gasseri was used on a group of mildly overweight people in Japan over the course of a month, their fat composition dropped by a significant 8.5%. [6]
That means you can put your favorite bathing suit back into your closet!
See how Provitalize customers are effortlessly losing weight...
Lydia lost 15 lbs in 2 months with Provitalize. Even her gut bacteria flora showed improvements in her health checkup!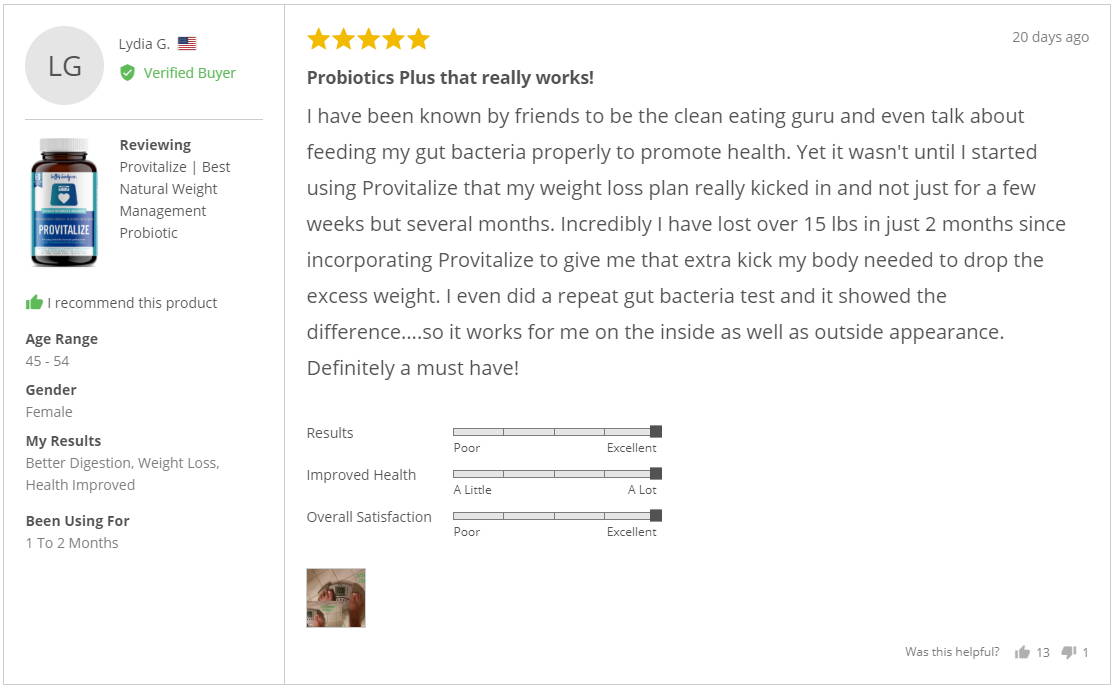 Idania has lost 4 lbs in 2 weeks. Even her husband, who is her biggest weight critic, has noticed the improvements.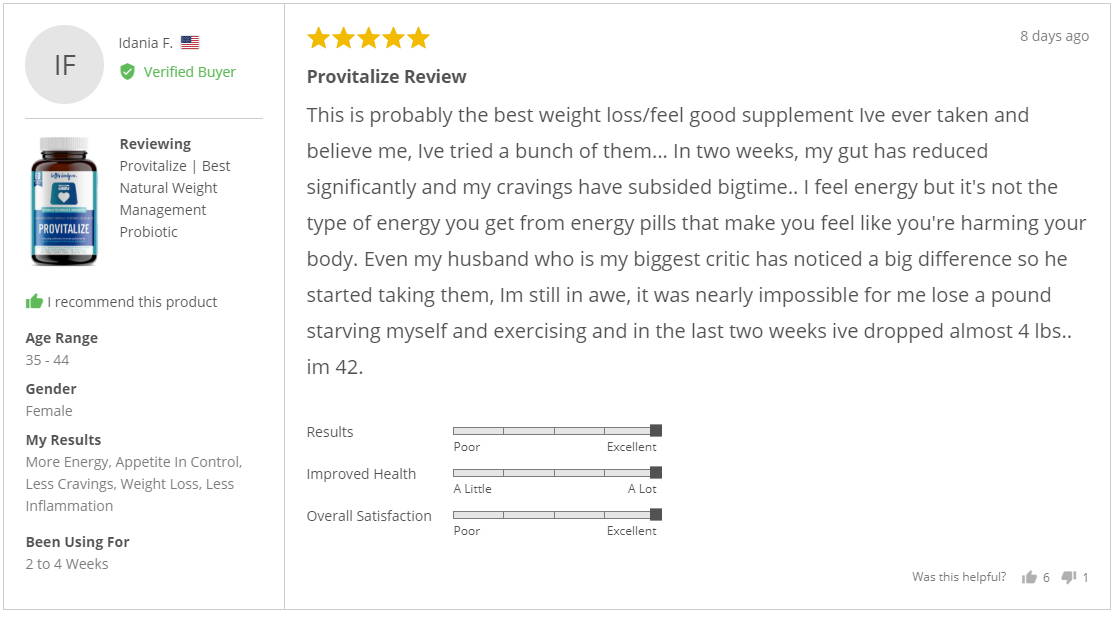 Debby lost 4 lbs after 2 weeks too. Now, she doesn't overeat and the bloating in her belly is gone!
Still considering? Use this code at checkout to take 10% off your first order: 10OFFCART
3. Do You Have Low Energy?
Always tired? Feel fatigued after a long day? Can't stay awake past 2pm? Trouble getting out of bed?
Provitalize can bring your energy levels back to your teenage days, as it contains a power source called curcumin.
When Center for Human Psychopharmacology, Swinburne University of Technology researched curcumin effects on a group of 60-85 years old, they had promising results. The elderly were able to remember things, remained more calm and had more energy overall. [3]
You'd feel more alive, and ready to go for that refreshing morning workout you've always wanted to do.
These are what customers are saying about their energy levels after taking Provitalize.
Sandra's energy level is up. She sleeps better at night, and she's gradually losing the pounds. Even her cravings are in control.

Betsy doesn't fall asleep at 3pm anymore and has noticeably experienced better energy levels.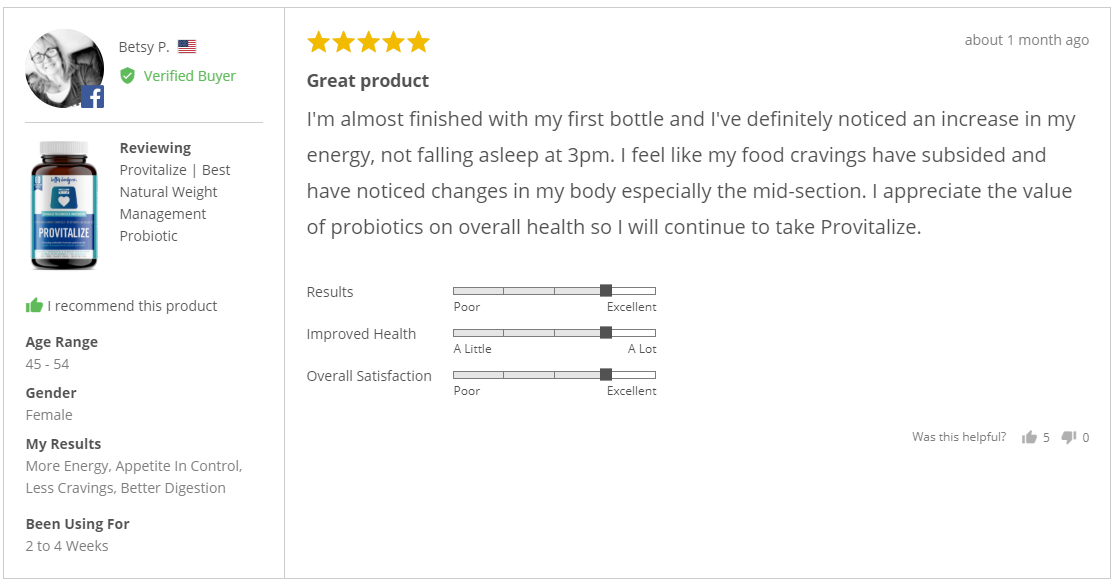 Still considering? Use this code at checkout to take 10% off your first order: 10OFFCART
4. Suffer From Inflammation Or Joint Pains?
Are you have bones aching? Your back hurting? Can't do sports or exercise, making you gain even more weight?
There's a high possibility that your body is silently suffering from chronic levels of inflammation. This means your cells are constantly damaged and are unable to produce the energy it needs.
You may not notice the effects of chronic inflammation immediately, until it brings out a big illness like heart problems, diabetes, dementia or even cancer. You could even be relying on NSAIDs like acetaminophen or ibuprofen to control the pain, but many of these medications come with long-term side effects like stomach bleeding.
So it's crucial that you do something to fix it early. Provitalize has 3 powerful anti-inflammatory ingredients that have helped many users alleviate their pain and inflammation problems. They are clinically proven too.
A study done by Thorne Research revealed that the anti-inflammatory properties of curcumin is so strong, that it even matches that of NSAIDs. [4]
Furthermore, the anti-inflammatory ingredients in Provitalize are natural; they do not come with the side effects your ibuprofen is notorious for.
Here are what customers are saying about the improvement in their pain.
Kimberly's osteoarthiritic knee pain is gone, allowing her to sleep better at night.
Ashleigh has no more inflammation in her joints, while losing 10 pounds and controlling her snack cravings. Provitalize has earned her "loyalty and recommendation"!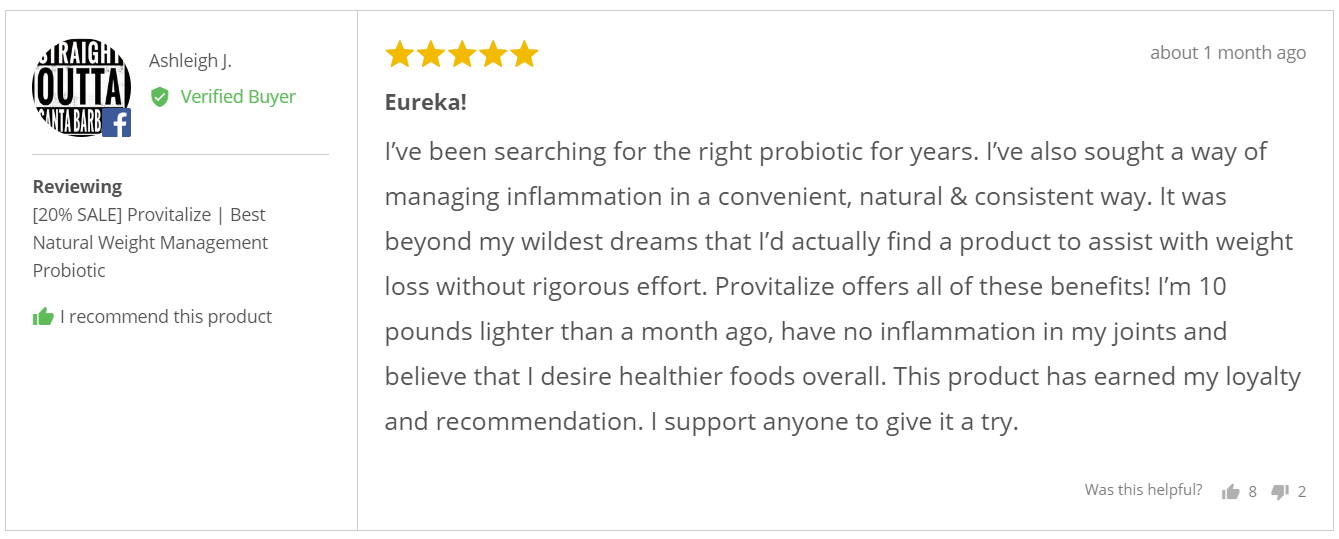 Provitalize serves as a great post-workout healing supplement for Melissa. It worked even better than any workout-recovery products she tried. Her constant muscle soreness is gone.

5. Do You Fall Sick More Than 2 Times A Year?
Seem to get the sniffles regularly? Always catching the neighbourhood bug or seasonal flu? Your immune system might be compromised, and you definitely need a boost of probiotics.
Probiotics are a staple for building a strong immune system. Take the L. gasseri strain in Provitalize.
A study published by Institute for Genetic Medicine, Hokkaido University showed that L. gasseri
significantly increased the production of the immunity protein, IgA, in your intestines.
With an abundance of this protein, your body is more than ready to fight back harmful infection that enters your body every day. This automatically overcomes common gut issues like stomach upsets and bloating. [5]
You'd spend more time with your family than with the doctor! :D
See what Kelley W. had to say about Provitalize probiotics:
Kelley's sensitive stomach has improved, and would definitely buy this again.
If you said yes to 3/5 of the questions, no doubt Provitalize will benefit you.
In fact, we'd like to give you a little something to ease your decision.
Use this code at checkout to take 10% off your first order: 10OFFCART
As you can see, our customers are happy with a slimmer body and healthier life. Go ahead. Give it a shot!
What if you don't like the product or worry that you don't see results? No worries. You're backed by 365 day money back guarantee, and we're still friends.
Customer satisfaction is our priority. Take a look at what customers are saying about our customer support:
We've got Darlene's faith in our business and online business practices. She loved how upfront we were on our details.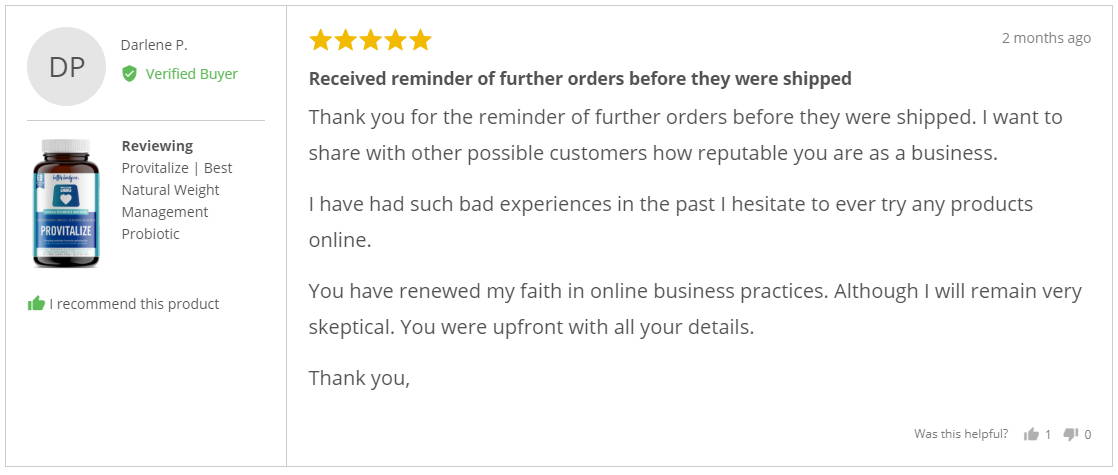 Vicki applauds our customer service for being prompt, as we fixed our coupon as quick as we could.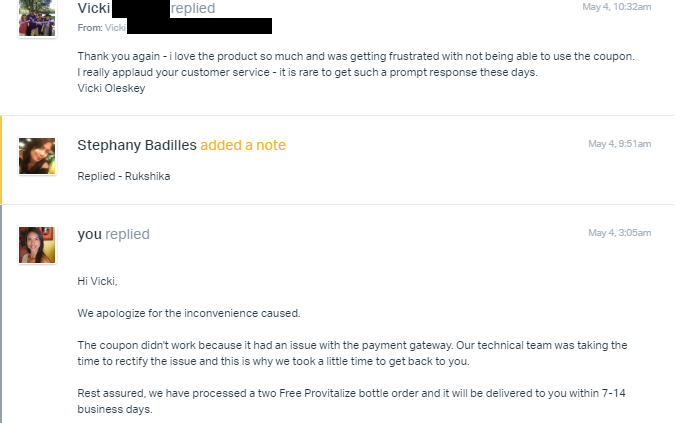 As seen from customer's reviews above, many of them start to experience better results when they are committed to taking Provitalize for at least a month.
We highly recommend that you give your body a chance, so you can enjoy health improvements in the long run.
When our customers had their family praising them for looking slimmer and feeling energized to work out, they were glad they gave themselves a chance.
Use this code at checkout to take 10% off your first order: 10OFFCART
Take 10% off Provitalize and join them!